Chip IP
The richest directory of Chip IP worldwide. Find the Chip IP vendor that matches your needs.
100 results found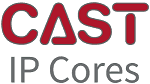 USA
CAST provides digital IP cores, including processors; video, image, and data compression; automotive and avionics buses; peripherals; and encryption.
Services
IP Integration
IP Cores
Microcontrollers and Processors, Video and Image Compression, Data Compression, Interconnects and Interfaces , Peripherals, Controllers, and Security, AMBA System Infrastructure and Functions
View vendor page
USA
Eta Compute is revolutionizing low power consumption for IoT by improving power efficiency by 10X without compromising functionality or performance.
View vendor page
UK
T&VS provides specialist software test and hardware verification solutions to help clients ensure their products are reliable, safe and secure.
Services
Hardware Verification, Software Testing, Security, Safety, Training
IP Cores
Verification IP, ARM-based VIP, Hi-Speed VIP, MIPI VIP, Memory and Storage VIP, Universal Serial IO VIP
View vendor page
France
Worldwide Silicon IP provider: Libraries, Analog IPs, CPU…
Design services for custom ASIC / SoC from specification up to production

Services
ASIC design, ASIC verification, Silicon validation, Turnkey (full supply chain services)
IP Cores
Microcontrollers and IDE solution, Embedded Memory and Standard Cell Libraries, High resolution audio converters / High resolution measurement converters
View vendor page
Germany
Global Semiconductor IP provider for accelerated SoC development in mobile, IoT and Wearables markets.
IP Cores
SoC White Box IP, Wireless Connectivity, Wired Connectivity, Broadcast IP, Video & Graphics
View vendor page