Silicon IP
The richest directory of Silicon IP worldwide. Find Silicon IP the vendor that matches your needs.
99 results found
Brazil
Chipus develops configurable IP core architectures that allow a good level of customization together with high IP portability, providing unique level of freedom on customer design requirements.
Services
IP Customization, IP Porting, System IC Simulation and Integration, Supply Chain, Turnkey Solutions
IP Cores
Power Management, Data Converters, Clock Management, Sensors and Actuators, Front Ends
View vendor page
France
SCALINX is a fabless semiconductor company offering Analog and Mixed-Signal turn-key ASIC and custom IP design services.
Services
New concept feasibility, ASIC design and supply, IP design service
IP Cores
ADX core IPs, AFE and Data Conversion Systems, Smart conversion IP blocks, Support functions IP block
View vendor page
USA
Cactus Semiconductor is a full-service provider of low-power mixed-signal ASICs specializing in miniaturized portable and implantable medical devices.

Services
Turnkey ASIC Supplier, IC Design Services Provider, Application Specific Standard Products (ASSP)
View vendor page
UK
Moortec provides compelling embedded subsystem IP solutions for Process, Voltage & Temperature (PVT) monitoring, targeting advanced node CMOS technologies from 40nm down to 7nm.
Services
IP Vendor
IP Cores
Process Monitors, Voltage Monitors, Temperature Sensors, PVT Controller
View vendor page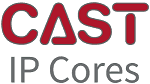 USA
CAST provides digital IP cores, including processors; video, image, and data compression; automotive and avionics buses; peripherals; and encryption.
Services
IP Integration
IP Cores
Microcontrollers and Processors, Video and Image Compression, Data Compression, Interconnects and Interfaces , Peripherals, Controllers, and Security, AMBA System Infrastructure and Functions
View vendor page