Silicon IP
The richest directory of Silicon IP worldwide. Find Silicon IP the vendor that matches your needs.
108 results found
USA
Kilopass' embedded non-volatile memory (NVM) IP is the industry's number one antifuse technology providing measureable impact to cost and revenue with silicon-proven solutions for developing automotive, industrial, mobility, consumer, and analog, and IoT products.
IP Cores
High Security, Code Storage, eFuse or ROM Alternative
View vendor page
Canada
Sidense 1T-OTP is a secure, reliable, low-power and cost-effective alternative to ROM, eFuse and flash in many applications.

IP Cores
SHF, SiPROM, SLP, ULP
View vendor page
Russia
IPrium offers FPGA and ASIC IP Cores for high-quality modems to customers worldwide.
View vendor page
USA
JVD has been supplying Analog ASICs to the Medical, Automotive, Aerospace, Industrial, Power Management & Consumer Markets since 1982.
Services
Lower Your Product Costs, Reduce the Size of your Existing Design, Protect Your Intellectual Property, Protect Yourself from Product Obsolescence, No Minimum Volume or Financial Restrictions, Free NRE and Tooling
View vendor page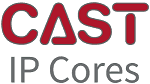 USA
CAST provides digital IP cores, including processors; video, image, and data compression; automotive and avionics buses; peripherals; and encryption.
Services
IP Integration
IP Cores
Microcontrollers and Processors, Video and Image Compression, Data Compression, Interconnects and Interfaces , Peripherals, Controllers, and Security, AMBA System Infrastructure and Functions
View vendor page