SoC IP
The richest directory of Soc IP worldwide. Find the Soc IP vendor that matches your needs.
100 results found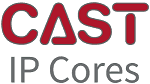 USA
CAST provides digital IP cores, including processors; video, image, and data compression; automotive and avionics buses; peripherals; and encryption.
Services
IP Integration
IP Cores
Microcontrollers and Processors, Video and Image Compression, Data Compression, Interconnects and Interfaces , Peripherals, Controllers, and Security, AMBA System Infrastructure and Functions
View vendor page
USA
JVD has been supplying Analog ASICs to the Medical, Automotive, Aerospace, Industrial, Power Management & Consumer Markets since 1982.
Services
Lower Your Product Costs, Reduce the Size of your Existing Design, Protect Your Intellectual Property, Protect Yourself from Product Obsolescence, No Minimum Volume or Financial Restrictions, Free NRE and Tooling
View vendor page
India
Terminus offers SerDes based transceiver IPs for standards USB.org, PCIe-SIG, IEEE, SATA, VESA etc. Other IPs include clocking and BGR.
Services
Turnkey
IP Cores
SerDes Interface , Clocking
View vendor page
USA
SoC Solutions is a Silicon IP and System on Chip (SOC) development company with headquarters in the Greater Atlanta Georgia Area.
View vendor page
India
Incise is a technology service provider company with following key focus areas: Semiconductor Digital/Analog ASIC Design & Verification.


Services
Front End Design Expertise, IP/SOC Verification Expertise, Physical Implementation Expertise, ASIC Design Expertise, Embedded System services
IP Cores
Verification IP, Conditional Access Platform Set-top Box Control Platform
View vendor page