SoC IP
The richest directory of Soc IP worldwide. Find the Soc IP vendor that matches your needs.
103 results found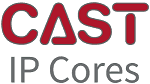 USA
CAST provides digital IP cores, including processors; video, image, and data compression; automotive and avionics buses; peripherals; and encryption.
Services
IP Integration
IP Cores
Microcontrollers and Processors, Video and Image Compression, Data Compression, Interconnects and Interfaces , Peripherals, Controllers, and Security, AMBA System Infrastructure and Functions
View vendor page
USA
JVD has been supplying Analog ASICs to the Medical, Automotive, Aerospace, Industrial, Power Management & Consumer Markets since 1982.
Services
Lower Your Product Costs, Reduce the Size of your Existing Design, Protect Your Intellectual Property, Protect Yourself from Product Obsolescence, No Minimum Volume or Financial Restrictions, Free NRE and Tooling
View vendor page
RelMicroS is a pioneering semiconductor IP design company. RelMicroS designs IP cores that are resilient to silicon hardware degradation for advanced technology nodes.


View vendor page
USA
Esencia Technologies specialized in providing turn-key services from spec to Production in semiconductor space. One of our key product includes EScala Design platform that generates application specific configurable VLIW processor cores.
Services
Turnkey Design Service
IP Cores
EScala Design Platform
View vendor page
Belgium
nSilition is a leading analog and mixed-signal semiconductor IP provider and full custom IC design house making your electronics smaller smarter and stronger.
View vendor page