Chip IP
The richest directory of Chip IP worldwide. Find the Chip IP vendor that matches your needs.
126 results found
Israel
UniPHY Ltd. is an Israeli-based Analog Mixed-Signal design house offering A to Z product supply, ASIC services, custom and standard hard-IPs and spec. to GDS services.
Services
ASIC services, IP Design
View vendor page
Egypt
Design of high performance architectures for mathematics, digital signal processing, and digital image processing.
View vendor page
USA
High-performance, ultra-low power IP in advanced nodes for 5G, wireline/optical communications, LiDAR, Radar, automotive networking, AI, image sensors, and IoT.
IP Cores
Analog-to-Digital Converters, Digital-to-Analog Converters, Temperature, Voltage, and Process Monitors, Ultra-Low-Power IoT IP
View vendor page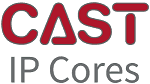 USA
CAST provides digital IP cores, including processors; video, image, and data compression; automotive and avionics buses; peripherals; and encryption.
Services
IP Integration
IP Cores
Microcontrollers and Processors, Video and Image Compression, Data Compression, Interconnects and Interfaces , Peripherals, Controllers, and Security, AMBA System Infrastructure and Functions
View vendor page
India
Ambit offers semiconductor design and intellectual property design services to global clients and adopts Offshore Design Centre (ODC) approach in achieving this. ODC functions like an extended arm of the client and thus ensures close communication and coordination between the client's teams and ambitions.
Services
Physical Design, RTL Synthesis and verification, STA
IP Cores
DDR
View vendor page