USA
"SiPaaS" IP & ASIC solutions including licensable GPU, video, audio, AI/ML-NPU, ISP, compression, security, power, RF, mixed-signal and advanced packaging.
Services
SiPass Silicon Platform as a Service, System in Package (SiP) Turnkey Service, ChipStarter Multi-Client ASIC Programs
IP Cores
Analog and Mixed Signal IP, Graphic and Peripheral IP, Interface Controller & PHY IP, Memory and Logic Library IP, Multimedia & Wireless Communication IP, Processor & Microcontroller IP
View vendor page
Korea
Chips&Media is a leading semiconductor HW IP provider specializing in multimedia IPs, video codecs, ISP, and deep learning-based upscaling super-resolution.
IP Cores
Effective and Efficient Video Codec HW IPs, Revolutionary Super-Resolution Technology
View vendor page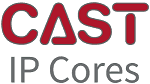 USA
CAST develops, sells, and supports digital Silicon IP Cores for ASICs or FPGAs that shorten development time and lower production risk.
Services
IP Integration
IP Cores
Microcontrollers and Processors, Video and Image Compression, Data Compression, Interconnects and Interfaces , Peripherals and Controllers , Security
View vendor page