Multi Project Wafer (MPW) emerged in the 1970's to help companies and researchers prototype their silicon and demonstrate their work. It was the early days of the semiconductor industry when firms like Fairchild, IBM and others were applying technology innovation to create smaller, faster and cheaper chips. Back then, Multi-Project Wafer played a key role in shortening time to market and reducing NRE costs.
The basic idea of Multi Project wafer is to allow companies to share the expensive maskset cost.  Essentially, Multi project wafer (MPW) services integrate onto silicon wafers a number of different integrated circuit designs from various teams including designs from companies, researchers and IP vendors. Because maskset costs are extremely high (and only increasing) , it makes sense to share mask and wafer resources to produce designs in low quantities.
Presently, Multi Project wafer (MPW) services are available by all the leading semiconductor foundries and well as their channel partners. Multi Project wafer is considered as a business enable to the foundry market.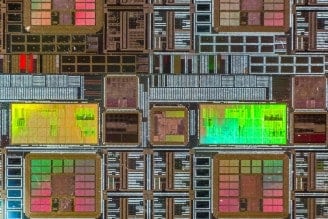 The first well-known Multi project wafer (MPW) service was by DARPA in 1981. At first, MPWs simply provided a channel for researchers and silicon entrepreneurs to prototype their IC designs. Its relevance and value soon became apparent to commercial firms who viewed MPWs as a practical prototyping vehicle that allowed designers to debug and perform essential design adjustments before making substantial strategic investments.
Many silicon foundries offer MPW runs or a company can produce its own MPW, e.g. combine several of its own designs to form one wafer completely owned by the company. In the latter case, it may be profitable to use most of the wafer for production chips and a small portion for producing prototypes of next generation chips.
MPWs reduce prototype cost by up to 90 percent versus a full production mask by grouping multiple IC designs on one mask set. The mask costs are shared by multiple program participants and are a good choice in a variety of scenarios:
Product prototyping
Verification of IP, standard-cell libraries and I/Os
Device characterization
Low-volume requirements
Research or early development projects looking for proof of concept
IP supplier experimentation with new circuitry or verification of working silicon
As the semiconductor industry is moving towards smaller nodes and hence higher maskset costs, the use of MPW will be a necessary step to reduce risk of taping out a design that may need an expensive respin.
Planning an MPW? get 3 quotes here.