Peripheral Controller IP Cores
Find companies providing Peripheral Controller IP cores. The richest directory of Peripheral Controller IP cores worldwide. Find the supplier that matches your needs.
19 results found See AllSend Email to All
Switzerland
Advanced Silicon is a fabless mixed-signal IC solution provider for High-Voltage, High-pin count, and ultra-low noise peripheral SOCs.
Services
ASIC Design, Embedded Algorithms Design, Wafer Testing, Packaging , Quality
IP Cores
High-Voltage IP Cores, Analog IP Cores , Digital IP Cores
View vendor page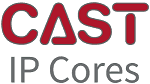 USA
CAST develops, sells, and supports digital Silicon IP Cores for ASICs or FPGAs that shorten development time and lower production risk.
Services
IP Integration
IP Cores
Microcontrollers and Processors, Video and Image Compression, Data Compression, Interconnects and Interfaces , Peripherals and Controllers , Security
View vendor page