SoC IP
The richest directory of Soc IP worldwide. Find the Soc IP vendor that matches your needs.
121 results found
Italy
RAME srl is a fabless ASIC & IP design company specializing in frequency synthesizers, energy-efficient power management and AD converters.
Services
Design Service, Layout Implementation and Verification Service, Pre-Silicon Validation Service, ASIC Testing Service
IP Cores
Low-Power Low-PhaseNoise VCO 1.5-1.9 GHz
View vendor page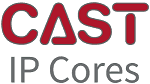 USA
CAST develops, sells, and supports digital Silicon IP Cores for ASICs or FPGAs that shorten development time and lower production risk.
Services
IP Integration
IP Cores
Microcontrollers and Processors, Video and Image Compression, Data Compression, Interconnects and Interfaces , Peripherals and Controllers , Security
View vendor page
USA
TSI Semiconductors Corp. is a specialty analog and mixed-signal Trusted Foundry with ISO, Automotive and Industrial Class Certifications and offers state-of-the-art contract semiconductor foundry services at its world-class manufacturing location in Roseville, California.
Services
Semiconductor Wafer Foundry Services, Custom Silicon Solutions (Technology Development & Commercialization Services), Custom Foundry Technology Ports
IP Cores
0.18um Design IP
View vendor page
Packet Architects develops Switching and Routing IPs for Ethernet, IPv4/IPv6 and other packet processing technologies.
View vendor page
Dover Microsystems offers flagship CoreGuard processor IP: hardware-based security for RISC processors that protects against all network-based attacks.
View vendor page