Chip IP
The richest directory of Chip IP worldwide. Find the Chip IP vendor that matches your needs.
112 results found
USA
Sankalp Semiconductor is a design service company offering comprehensive digital, analog and mixed signal application specific SoCs and IP related services.
Services
ASIC/FPGA Services, Analog & Mixed Signal Services , Custom Layout Services , Technology Foundation Services , IP Choice
IP Cores
GPIOs Libraries , High-speed Interface IP Portfolio
View vendor page
UK
Provider of design services and world leading programmable processor cores optimised for higher performance radar and image processing.
View vendor page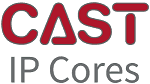 USA
CAST provides digital IP cores, including processors; video, image, and data compression; automotive and avionics buses; peripherals; and encryption.
Services
IP Integration
IP Cores
Microcontrollers and Processors, Video and Image Compression, Data Compression, Interconnects and Interfaces , Peripherals, Controllers, and Security, AMBA System Infrastructure and Functions
View vendor page
India
Incise is a technology service provider company with following key focus areas: Semiconductor Digital/Analog ASIC Design & Verification.


Services
Front End Design Expertise, IP/SOC Verification Expertise, Physical Implementation Expertise, ASIC Design Expertise, Embedded System services
IP Cores
Verification IP, Conditional Access Platform Set-top Box Control Platform
View vendor page
Germany
Creonic is one of the largest IP Core provider for forward error correction in the Communications market.
View vendor page