SoC IP
The richest directory of Soc IP worldwide. Find the Soc IP vendor that matches your needs.
114 results found
Comcores provides leading edge silicon agnostic IP Cores for wireless and wireline communication systems.
View vendor page
Canada and USA
XtremeEDA, founded in 2002, is a North-American based provider of design and verification services for the semiconductor industry.
Services
Digital Design Verification (DV), Digital Microarchitecture, Design, & Implementation, Analog Modeling & Mixed Signal (AMS) Verification
IP Cores
Security & Encryption, Standard Interconnect and Communication Protocols
View vendor page
Finland
CoreHW is your one-stop custom ASIC solution partner. CoreHW can create your exclusive ASIC in a flash with our broad IP portfolio and partner network. CoreHW is ISO9001:2015 certified company.
Services
IC Design Services, Semiconductor IP & Chip products, Full cycle ASIC and SoC Turnkey Solution , ASIC characterization services, Partner Access
IP Cores
CoreVCO, CorePLL, CorePLL6G, CoreADC, CoreDCDC, Antenna switch, Antennas, CoreHW IPs
View vendor page
France
SCALINX is a fabless semiconductor company offering Analog and Mixed-Signal turn-key ASIC and custom IP design services.
Services
New concept feasibility, ASIC design and supply, IP design service
IP Cores
ADX - Continuous-Time ΔΣ ADC, Programmable Gain Amplifier, 1-bit ΔΣ Modulator DAC, LVDS Transmitter
View vendor page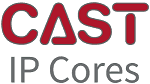 USA
CAST provides digital IP cores, including processors; video, image, and data compression; automotive and avionics buses; peripherals; and encryption.
Services
IP Integration
IP Cores
Microcontrollers and Processors, Video and Image Compression, Data Compression, Interconnects and Interfaces , Peripherals, Controllers, and Security, AMBA System Infrastructure and Functions
View vendor page