SoC IP
The richest directory of Soc IP worldwide. Find the Soc IP vendor that matches your needs.
116 results found
USA
Pacific Microchip Corp. is a privately held IC design company founded in 2006 and headquartered in Los Angeles, California USA.
View vendor page
USA
eInfochips is a global technology firm specializing in product engineering and software R&D services. We enable digital transformation for companies in Semiconductors industry which includes ASIC/FPGA-SoC design services and embedded hardware design.
Services
ASIC & FPGA Design & Development, Physical Design and DFT, Hardware Design, Verification & Validation
IP Cores
Reference Designs & EVMs
View vendor page
Switzerland
Leader in ultra low power analogue and mixed signal ASIC design and IP licensing, including RF, image sensor and SOC.
Services
ASIC and SOC design, Silicon IP licensing, Ultra low-power 2.4 GHz transceiver for Bluetooth Smart & IoT, Ultra low-power icyflex® processors
View vendor page
Denmark
DELTA provides IC design, semiconductor testing, distribution, and complete semiconductor manufacturing services to some of the world's best known brands.
Services
ASIC Design, Testing and Packaging, Qualification and Failure Analysis, Supply Chain Services, GLOBALFOUNDRIES Channel Partner
IP Cores
RFID analog front-end
View vendor page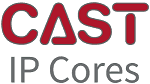 USA
CAST provides digital IP cores, including processors; video, image, and data compression; automotive and avionics buses; peripherals; and encryption.
Services
IP Integration
IP Cores
Microcontrollers and Processors, Video and Image Compression, Data Compression, Interconnects and Interfaces , Peripherals, Controllers, and Security, AMBA System Infrastructure and Functions
View vendor page